The 100th Anniversary of The First World War
4th August 1914 – 2014 

Soldiers fought largely in trenches during the war, and thousands suffered from stress,known as shell-shock.  The British and French trenches were often squalid, whereas the German trenches were almost luxurious in comparison, with bunks and decent cooking facilities.
 On 4th August, 2014 we shall be holding a Commemoration Service for our two Churches at Holy Angels Church, Ash GU12 6LU at 7.30pm to remember all those brave men and women who so bravely gave their lives that we might live in peace.
Amongst those we will be remembering is the Father of Molly Llanwarne, namely Robert John Ward, who was born in Aldershot who enlisted under age in the Queen's Royal Regiment.  Molly's father thankfully survived a gas attack and later went onto  marry Molly's Mother.
Also Private Cecil Thomas Whitworth who enlisted  in the Royal Army and sadly died at the young age of 21.
A Presentation of the Books of Remembrance of those in our Local Communities who have died and a Remembrance for the Germans who Died will take place.
Below is a copy of a Testimony of friendship document which Fr. David has produced which has been sent to the Priest in Germany to let them know that we shall be remembering them and praying for them at our Commemoration Service.
To The Priests and People
of the Parishes of St. Albert and St. Peter,
Andernach, Germany
'Greetings'
from The Priest and People
of the Parish of Holy Family,
Farnham, England.
The Towns of Farnham and Andernach are twinned in a covenant of friendship.  As we prepare to commemorate the beginning of the First World War we would like you to know that at 9.15am onSunday, 3rd August in Holy Family Church, Farnham, we ill be remembering at our Mass the men and women of Andernach who died during the First World War and giving thanks for the friendship that our two countries now share.
Father David A. Buckley, MA. Parish Priest
Eyewitness Accounts of the Christmas Truce
(taken from The Mail on Sunday)
The Mail printed a dozen accounts of how, on Christmas Day 1914, arms were laid aside and soldiers from opposing armies ventured out of their trenches and into no-man's land to wish each other peace.  Here was a mass act of fraternisation that sent shivers through the military authorities.  But, for all their head-shaking denials, it really happened.
On the 4th Januwary, under the headline 'The amazing truce', an officer wrote 'strolling down to the trenches on Christmas morning I was staggered to find Germans and English all crowded together between the opposing wire entanglements.  Tommies were swapping Woodbines for cigars and talking a desperate lingo of Cockney-French and pidgin-English.'  Gunner Herbert Smart – an Aston Villa footballer in  peacetime – watched the Germans putting out Christmas trees and lanterns along the tops of their trenches on Christmas Eve.  Then men began walking out to shake hands.  'This went on until midnight on Boxing Day without a single shot being fired.  I met a German who had been a waiter in London.  He says they do not want to fight and I think he was telling the truth.'
As carols were sung and bottles clinked, a private in the Queen's Westminster Rifles recalled the joy of 'no lead flying'.  A rifleman declared that 'if I had not seen for myself the effect of Christmas on these two lines of trenches I should never have believed it.  Peace and good will between men who have been murdering one another for the past five months is incredible.  A few hours before we were careful to keep our heads down and now we were sitting on the parapet of our trenches, throwing cigarettes to our enemies, who wandered out into the middle of the lines.  They even offered to play us at football.'
A Hero's Death
(Letter published on 11th November, 1914 (taken from the Daily Mail Newspaper)
'At daybreak the morning after we had repelled an attack, we saw that the Germans had collected their wounded, with the exception of one man who lay groaning in agony halfway between the trenches.  Our captain jumped forward from his trench.  The Germans fired and he was hit.  He staggered but with a magnificent effort kept his feet and rushed on towards the wounded German.  Then, although badly wounded, he picked him up and carried him direct to the German trenches.  We heard the roar of cheers as he gently laid the body down and saluted.  A German officer climbed up from the trench and removing his own Iron Cross, pinned it on our hero.  Sadly, back in our lines the captain died from his wounds and I am broken-hearted that his cross is a wooden one rather than the VC he deserved.
Some Interesting Facts:
During World War 1, dogs were used to carry messages in capsules attached to their body.  Dogs also carried and placed telegraph wires in important areas.

Pigeons were also used during the war.  About 500,000 pigeons were regularly dropped into enemy lines by parachute, and then sent back with messages.

Cannons and artillery were often extremely loud.  In 1917, the explosives used to destroy a bridge in France could be heard over 130 miles away in London.
A Poem 
 Why are people wearing poppies, mummy,
Wearing poppies in the town today?
The poppies dear child are flowers of love
For the men who marched away.
But why did they choose a poppy, mummy,
Why not a beautiful white rose?
Because my dear child, men fought and died
In the fields where poppies grow.
But why are the poppies so red, mummy,
Why are the poppies so red?
Red is the colour of Blood, my child,
The Blood the solders shed.
The middle of the poppy is black, mummy,
Why does it have to be black?
Black, dear child, is the symbol of grief
For the men who never came back.
But why are you crying now mummy,
Are you sad or are you in pain?
My tears are my fears for you my dear Child
That we may forget and go to war again.
First Holy Communion Candidates for 2014
The First Holy Communion is an important step in a child's life, and at Holy Angels and Holy Family churches we invite children to become a part of the community as soon as they are ready.
Below are our our First Holy Communion children who all took their First Holy Communion in June, 2014.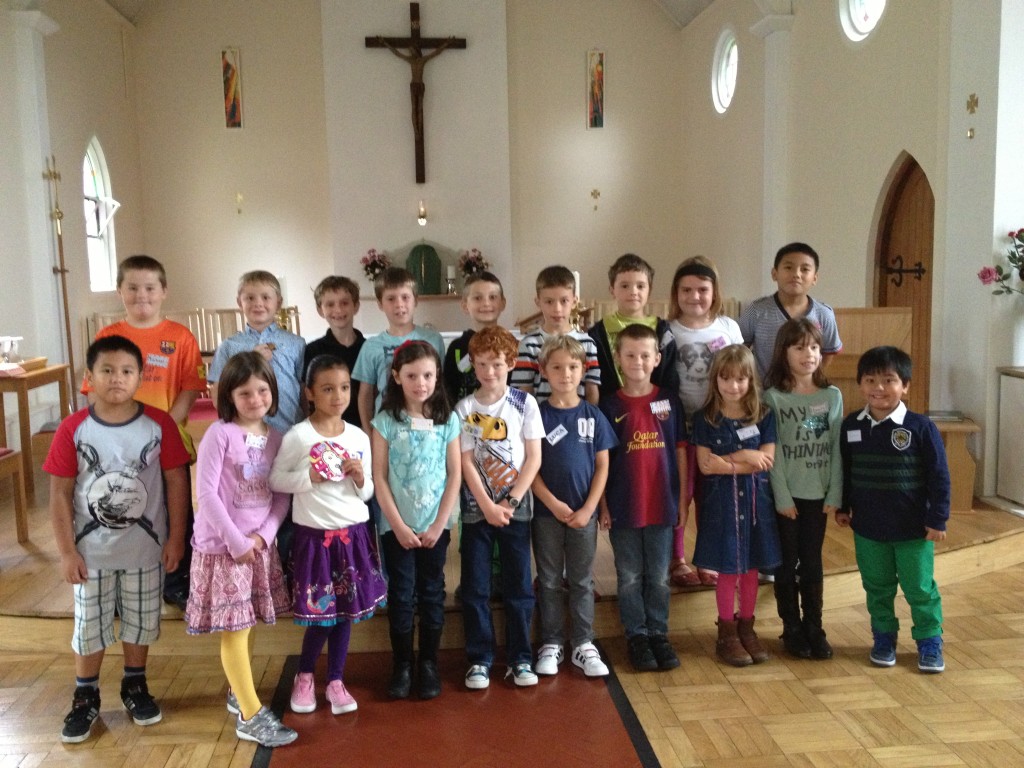 PLEASE NOTE

: 
Your child must be in school Year 3 or above to be considered for the programme, the course is aimed at children 7-8 years of age.
In the Eucharist, we receive Christ himself and it is therefore essential that your child is adequately prepared to receive this sacrament with reverence and understanding.  This includes receiving forgiveness and our classes for First Holy Communion include preparations for the Sacrament of Reconciliation.
Our programme consists of nine classes between September 2014 – May 2015, with the First Holy Communion Sacrament being taken in June 2015.  Your child must take part in ALL lessons.  As joint parishes, the location f classes alternate between HOLY ANGELS, ASH and HOLY FAMILY, HEATH END.
We remind you that the role of the Catechists is secondary to you, the parent and there are alsdo four 'parents' meetings which YOU will be required to attend.
At the first parents evening, it is requested that you complete a COMMITMENT form on behalf of your child and bring a COPY of their Baptism Certificate.
As a family, you are requested to be REGISTERED with the parish. (Forms are available at the back of each Church).  The completion of the application form DOES NOT automatically enrol your child on the course.  You will receive confirmation by email/letter.
Father David has the overall authority to decide which children go forward.
If you have any questions, please do not hesitate to contact the Holy Communion Catechists and we look forward to meeting you at the first parents evening.
First Holy Communion Catechists:
Amanda Watson  01252 318823  amandawatty@sky.com
Terese Woods       07979 956222 teresa.woods28@sky.com
Susie Simms                                           susiesimms@hotmail.co.uk
 Our Youth Group
 Our Youth Group after singing at the Farnham Churches Together – Songs of Praise on Sunday, 26th January, 2014

Below our Youth in full voice at the Songs of Praise Event
What our young people said just before they started to sing:-
"Thank you for taking the time to listen to us today.  We will be singing 'Sing a Simple Song' as we believe that faith shouldn't have to be complicated and that God will appreciate our worship, no matter how big or small.  We hope you like it!"
And it appeared that everyone did like it judging from the clapping afterwards!  Well done to our wonderful Youth Group we were all so very proud of you.



First Holy Communions – 2013
 FIRST HOLY COMMUNIONS -15th June 
On Saturday 15th June the children from Holy Family (Luke Alford, Emily Anderson, Maria Foley, Titania Hills, Euan Miller-Cook, Niamh O'Rourke, Harry Simms and Bonnie Wright) made their First Holy Communion and on the following weekend the children from Holy Angels (Jasmine Costelo, Joshua Costelo, Henry Jackson, Niamh McFadden, Alex Parsons, Wiktoria Pyszczek, Poppy Richards and Danielle Woolford) also made their First Holy Communion.
On both days the sun was not shining but this did not dampen the children's spirits and we had two wonderful celebrations at both churches. The children did so well and it was great to see such a large number of family, friends and teachers supporting their children on their special day.
The girls looked beautiful in their First Holy Communion dresses and the boy's looked very smart too.
The children received the sacrament of communion with both reverence and joy and enjoyed this special time.

Toddler's Summer Party
A great time it would seem was had by all the many toddler's and their Mums who attended the Toddler Summer Party which was very kindly organised and layed on by Joy Appleton.  Many thanks to Joy for all her hard work and effort put in on behalf of the Toddlers.
The  Diocese of Arundel and Brighton
Our Parish is part of a worldwide family of faith.  Catholic Churches in Sussex and Surrey are part of the Diocese of Arundel and Brighton.  The beautiful Cathedral at Arundel is the Mother Church of our Diocese.  Our Bishop is The Right Rev. Kieran T. Conry Ph.B. STB.  Bishop Keiran was born on the 1st February 1951 and ordained a Priest on the 19th July 1975.  He was appointed the 4th Bishop of the Diocese on the 9th June, 2001.
Within the Diocese of Arundel and Brighton the parishes are gathered together in smaller groups called Deaneries.  A Deanery usually consists of about eight or ten parishes which support each other in providing pastoral support and friendship amongst the Priests and Deacons in an area and also when possible sharing Pastoral support and courses helping people to find out how their lives can be closer to Christ through the Church community.  Holy Angels  (Holy Family) Church is in the Guildford Deanery.
Holy Family Church Catholic Parish Farnham, Hale, Weybourne & Badshot Lea
Holy Family Disabled Toilet and Porch Extension Project and Last Supper Window
The building work has now been completed for some weeks and we are delighted with the end results which has improved our facilities at Holy Family. The room off the entrance which facilitates parents and their children who might become a little restless during Mass and also provides a disabled toilet with changing facilities for young babies has proved to be most useful. There is also a TV monitor provided in the room so that parents can still view and enjoy the Mass whilst their children take time out.
A three quarter life sculpture (a Pieta) by Michael Clark is being restored in the grounds of Holy Family Church, Heath End, Farnham.  The Sculpture by this well know artist was made and installed in the grounds of the church in 1977.  It is hoped that the restoration will be completed by the end of May this year.
The Stained Glass Window of the 'Last Supper' is also in place and again really enhances the look of our beautiful Church.  In the afternoon the Sun streams through and floods the Church with all the many different colours of the stained glass.
Youth Retreat 15th – 17th March, 2013
The weather indeed was awful but the time we did decide to pop out into the town it stayed dry.  The house was amazing and big enough for 11 young people to play hide and seek.  The longest hiding individual managed 45 minutes!
When not in sessions or playing hide and seek then the piano and singing was the focal point and what a pleasure to see such talent.  The retreat was at Geo House in Ashurst in the New Forest and is a retreat house belonging to the Montfort Missionaries.  Fr Des was great and accommodated us all for reconciliation in his busy schedule.  The parishioners prepared a meal for us before leaving on Sunday – all in all a wonderful weekend with catechists and candidates
A few pictures of our Youth having a great time:
 
 
Saturday 9th Feb Parish Games Afternoon at Holy Family.
Our youth group held a games afternoon on Saturday 9th Feb at Holy Family church hall. 19 of our youth turned out to set up traditional games and also more modern electronic games. Cards, giant connect 4, scrabble and craft and colouring for the younger children. Although you will see from the photos that adults also liked the colouring and craft tables.
The purpose of the afternoon was to host the games bringing together our young people with parishioners in a fun environment. 61 people joined in the fun afternoon. Another purpose to the afternoon was to fundraise for the youth's chosen charities: Step by Step in Aldershot and Hope for Uganda in Uganda of course.
The games afternoon finished with fish n chip supper and brownies and other cakes donated by mums for dessert along with one last fund raiser game of 'heads n tails' and not forgetting the raffle where it seemed most of the youth were responsible for picking out the tickets. The afternoon raised £200 all due the hard work of our young people and those who joined in the fun. Special thanks to a couple of Dads that worked hard behind the scenes especially Paul the fish n chip runner.
Gloria Benson and Hilary Gray, Youth co-ordinators
.


 
Mother and Toddler Group 
Holy Family Parent & Toddler Group takes place on a Thursday.  It will be co-ordinated by Joy Appleton 07796 692609
Valentine's Day Party for the Toddlers!
The toddlers all had a great time at their very own Valentine Party with lots of colourful balloons with hearts on and as you can see from the picture below even Father David and Deacon John were on hand to help get the party off to a good start.  Thank you to Joy who organised this part for our young toddlers the Church of tomorrow!
Baptisms
Please make an appointment to see the Priest/Deacon to discuss what you need to do to prepare for your child's baptism.
The Perfect Church
If you should find the perfect church
Without on fault or smear,
For goodness sake don't join that church
Lest you spoil the atmosphere.

 

If you should find the perfect church
Then don't you ever dare
To tread upon such holy ground
You'd cause such disturbance there

But since no perfect church exists,
Made of perfect people
Let's cease on looking for that church
And love the church we're in.

Of course it's not the perfect church,
That's simple to discern.
But you and I and all of us
Could cause the tide to turn.

What fools we are to flee the past
In that unfruitful search
To find, at last, where problems are
God proudly builds his Church.
.